Route 100 of Kowloon Motor Bus ("KMB") had its inaugural journey at 1:00pm on 1 December 1995. It was a cross harbour service for Jordan, Tsim Sha Tsui and Causeway Bay. KMB used air-conditioned, 2+2 seating cofigurated double deckers with in-vehicle radio broadcast for this route. Twelve 12-metre Volvo Olympians were allocated. The most special feature for the route was its continuous shuttle and direct routeing. In the early time it charged $5 per journey, and the fare was then increased to $6. It ran from 7:30am-11:00pm for Mondays to Saturdays, and 9:00am-11:00pm for Sundays and public hoildays. The scheduled frequency was 5-6 minutes. Journey distance of the route was 14 km while the scheduled journey time was 60 minutes.

After operating for 17 months, the route was cancelled and the last day of service was 30 April 1997.
---
Bus Stops
Concordia Plaza / Science Museum
Toll Plaza Stop

Cross Harbour Tunnel

Morrison Hill Road / Tin Lok Lane
Hennessy Road / Canal Road
Sogo Department Store
Daimaru Department Store
World Trade Centre / Excelsior

Cross Harbour Tunnel

Toll Plaza Stop
Opposite Diocesan Girls' School
Prudential Centre
St. Andrew's Church / Royal Observatory
Opposite Islamic Centre
Sheraton Hotel / Holiday Inn Golden Mile
Opposite New World Centre / Regent Hotel
Shangri-La Hotel
---
Vehicles Allocated
3AV95
(GP 6654)
3AV102
(GP 7387)
3AV96
(GP 6690)
3AV103
(GP 7629)
3AV98
(GP 6970)
3AV104
(GP 7748)
3AV99
(GP 7100)
3AV105
(GP 7842)
3AV100
(GP 7285)
3AV106
(GP 7857)
3AV101
(GP 7359)
3AV109
(GP 8309)
---
3AV102 and 3AV103 (1997/04/20)
---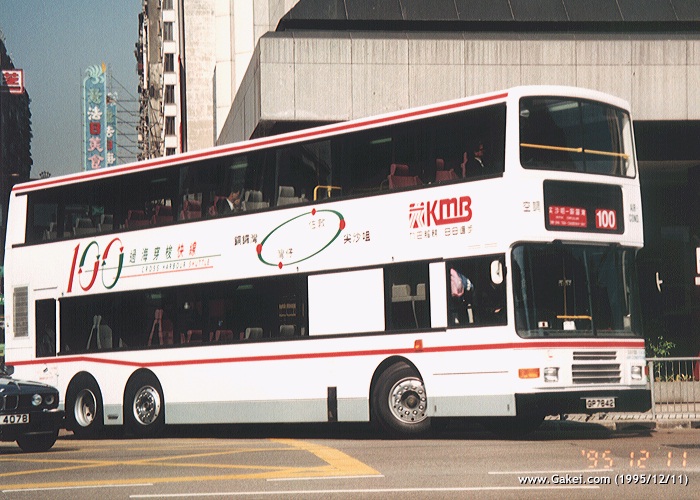 3AV105 (1995/12/11)
---


An HKBEC Sub-page.